Category Archives: various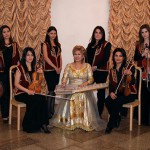 A complement to the upcoming Omani Women's Day 2013 celebrations, this fabulous program features Omani and international performers coming together to celebrate the women of the nation on 8th of October, 2013. Armenia's "Queen of the Qanon," Hasmik Leyloyan, will share her dazzling mastery of this complex string instrument. A highly sought-after orchestra member, she is also no stranger to solo performance and brings a virtuoso's polished finesse. Leyloyan's ensemble will be followed by that of Egyptian marimba star Nesma Abdel Aziz, who has enchanted audiences around the world with her spirited approach to classical and contemporary music, both Arab and international. The evening's dozens of performers will also include the ladies of the Royal Oman Symphony Orchestra, the First Royal Group for Oriental Music and Folklore, and special surprise guests. ( Must say that the special guest was famed singer Kazem Saher and his orchestra)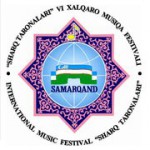 All fans of ethnic music of various nations get ready for the start of International Music Festival "Sharq taronalari" which will kick off on 25th of August and end on 30th. International Music Festival "Sharq Taronalari" is organized every two years by the President of the Republic of Uzbekistan -Islam Karimov with the support of the Ministry of Culture and Sport of Uzbekistan, Ministry of Foreign Affairs of the Republic of the Uzbekistan , the National Broadcasting Company of Uzbekistan, Uzbek Composers' Union and the Mayor Office of the Samarkand region. The main purpose of the festival included a program of cultural activities of UNESCO – the preservation of traditions of national musical art around the world, connecting countries in the center of ancient Samarkand – "pearl of the Orient" You will be surprised and amazed by the bright impressions of great event, connecting with creative collectives from over 50 ensembles from around the world and get a colorful acquaintance with the culture of Uzbekistan.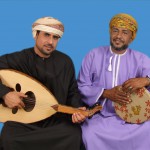 International Folklore Development Association ( IFDA) from Austria is coordinating participation of Omani traditional musicians and singers Farid Al Balushi and Ishaq Al Harthy to take part in this event. The duo will play in the competition following peaces: India Ship, Air breeze and the Nights. IFDA team wishes to musicians a safe trip to Uzbekistan and enjoying the beauty of Samarkand, while also to win the highest prize in the competition. IFDA values its cultural activities in the Sultanate and we see this kind of support for Omani musicians as the least we can do for the country so generous towards many foreign artists.
King Solomon
We have been sitting in an old style traditional coffee-house. It was evening and weather was cooler and more pleasant since I have been there last time.. Dusk was lighted up by old Moroccan style lamps hanged from the arches.. all around each table was green, with various plants growing up naturally, as if we were sitting in garden.. the chairs were large with oriental pillows to make the sit more comfortable.. We ordered ginger tea with honey and each telling a story encountered in life, or things that happened just while ago, everything. And while chatting there were so many things that had no explanation, things happening suddenly with no excuse. They said about a friend they lost during the last Eid El Adha. A decent man, young, with bright future ahead, a sudden and unexplained loss. There was so much sadness and inevitability in their voices .. so to change the theme one of the friends told us this legend .. about…. King Solomon was sitting with his entourage and talking to them when suddenly door to the hall has opened and an ugly face has looked in. It glanced onto one man there in the crowed and disappeared.. The man was a friend of King. His heart filled with fair of unexpected and he rushed to the king and fell to his knees. – Oh Solomon, who was that man that glanced into the room and disappeared? He is angel of death,- answered the King. Death!! cried King's friend.. I beg you, King help me to get out of here, send me to India, far away, save me.. Continue Reading
On September 30th Bahrain was opening doors for the new 21st edition of its renowned Music Festival with artists from Armenia, Jordan, Egypt, Spain, Sudan and Tunisia taking part. It is great honor for our company to be part of this event with organizing Hasmik Leyloyan and Camerton Chamber Orchestra concert, for all those that want to listen to their amazing music please find more information here:
http://www.manamaculture2012.bh/en/AllEvents/MUSIC/MusicFestival/ See the poster here: hasmikE
Oct. 1, 2012 Hasmik Leyloyan
Genre: Qanun Night Country: Armenia
Since the 70's, Hasmik Leyloyan, the "Queen of Qanun" has been considered the innovator of the classical school of Armenian Qanun. Her unique style incorporates the rich history of Qanun by brilliantly blending folk with classical complex composition.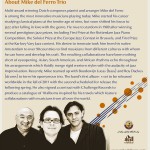 After great success in Bahrain, playing for Bahrain International Music festival, we went on and organized another concert of Mike del Ferro trio, this time in Doha. Mike will perform with Theo de Jong and Bruno Castelucci, both amazing musicians. The concert will take place on 16th of November, on the stage of Qatar National Theater, at 8 p.m. Entrance is free of charge. Continue Reading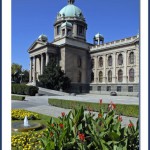 To all those music, folklore, dance or theater groups that will pass through Serbia on their way to other festivals, have great opportunity for one night/ one concert stop-over opportunity. The Municipality of Bojcin, small town near Belgrade has festival of Cultural Summer of Bojcin, where we can suggest some interesting programs and performers. Continue Reading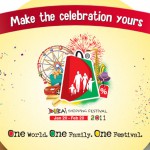 Launched in 1996 by Dubai Government, Dubai Shopping festival considered the longest and largest event of it's kind in the world. This event is to support tourism flow to Dubai Emirate, activate trade and entertain at the same time. Millions of visitors every year is a clear prove of it's success.
This success story makes me proud to be part of it, as some entertainers and dance groups performing there, have been traveling there with my help.
Here they are: Continue Reading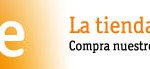 I already wrote about Silk Road 2010 and the groups that performed during the festival. I also wrote about various TV channels and magazine's representatives, filming crews, journalists reporting from the site. Recently I received the link from Mrs. Carmina Villar – director of Ara de Madrid, one of the groups that participated in Silk Road festival 2010, about very interesting program prepared by Spanish TV. It is in Spanish, so those that do not know the language will not enjoy it, but it is lovely, showing the best of the country and with wonderful presentation. The program was made during the festival, but it is not only about it, but showing rich history, culture, traditions, monuments and architectural monuments, that Syria has to offer. What is really obvious is the hospitality that amazes every person visiting Syria, be it for first time or any time. Welcome to Syria! See the program of TVE here:
[pro-player width='530′ height='453′ type='video']http://l3-onlinefs.rtve.es/resources/TE_NGVA/mp4/2/1/1295393870912.mp4[/pro-player]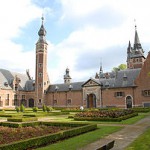 Von 14 September bis 12 Dezember steht die Wiener Werkstätte im Zentrum einer Ausstellung des Silbermuseums Sterckshof in Antwerpen. Continue Reading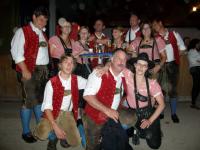 Despite Bosra International festival postponement to next year, Lendorfer Schuhplattler dance and music group from Southern Austria didn't cancel its trip to Syria. The preparations for the trip went smooth and yesterday the group arrived to Damascus! Today the group had performance in Azem Palace, one of most attractive Damascus style houses, that was home of Azem family and now is museum. Recently it restauration works have finished and it is even more beautiful then before. It is very cozy, can host not more than 400 people, and Ministry of Culture holds their presentations, concerts, it is one of the venues where Bosra Festival groups perform in Damascus. This year when we informed Mr. Nazih Khouri that Austrian group is traveling to Damascus, he was so kind to book this impressive venue for Lendorfer Schuhplattler. Continue Reading
← Older posts