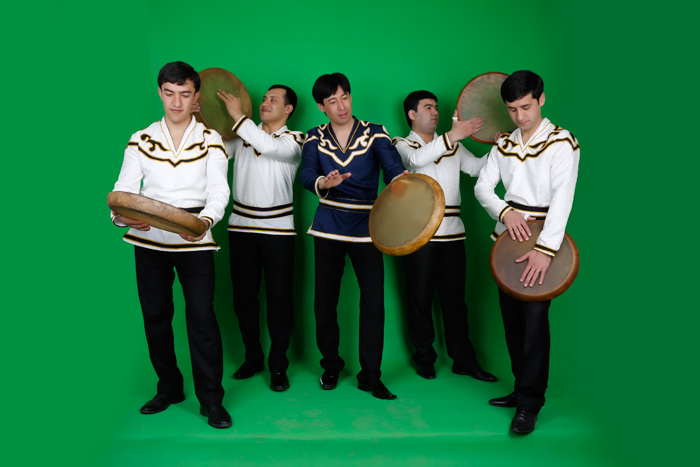 "Sadoi", an ensemble of traditional drummers, was established late in the end of end of 90-ies in Khujand -the capital of northernmost province of Sughd. But unlike other provincial ensembles, "Sadoi" gained widespread recognition in the whole country, and later on also abroad.
Khayrullojon Dadoboev is the soul of the ensemble. He started to play since early childhood, entertaining large crowed during traditional fests, and as the little virtuoso grown into a man, so has grown his talent.
Ensemble is playing traditional Tajik drums (doira) and various other drums, particular to this region, beside drums they have also karnai, in its various sizes.
"Sadoi" plays traditional Tajikistan rhythms as well as some compositions of their own. In their performance on the stage of Royal Opera House , doiraists will be accompanied by small number of female dancers of "Bazmoro National Dance Ensemble", that will perform renowned Makom and some solo dances.
About Doira:
The central-Asian "doira" is played especially in Tajikistan and Uzbekistan and presents some peculiarities in reference to playing and manufacture-type. It consists of a solid wood-ring from acacias, mulberry or maple-wood, a calfskin diaphragm and approximately 60 small metal-rings fixed on the inside of the wood-ring. Characteristic of the relatively heavy "doira" (1,5 – 2 kg) is a pervasive, clear and dry sound. Beside the open basic beats of the right and left hand, the beat technique on the doira is also especially comprised of special beats like "the Slap" (for frame drums itself – a rare beat technique) as well as a variety of different finger-techniques.
The Doira – incidentally a frame drum originally played by women – is until today irreplaceable in traditional as well as in the Tajiki-Uzbeki art-music "Makom". Whilst folklore and wedding-songs are played in many rhythm variations in the tempo of 6/8, 7/8 and 4/4, the " Makom " further embodies very many complex composite rhythms up to 16 bars length.