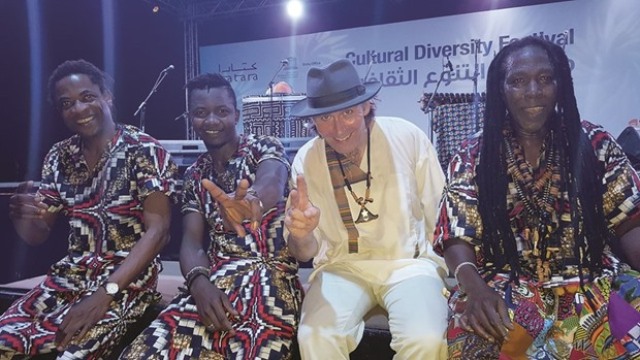 Bringing unique sounds from the far villages of Burkina Faso in Western Africa, "Djakaly Kone Musical Band" attracted many people at Katara Esplanade.
Narrating stories through their typical African musical instruments such as Kora (a harp-lute) and xylophone, the musicians from Burkina Faso enlivened the spirit of a great Western African tradition, which is unique to their area, storytelling with instruments.
Coming from Babouti Alajout in the South of Burkina Faso, the famous musical town, the musicians of band represent the families whose members are especially trained from early childhood in telling stories not vocally, but with their musical instruments.
Dr. Martin Trisko, a member of "Djakaly Kone Band", mentioned in his interview, that in the ancient time there were no proper means of communication and people just walked from one village to the other to transfer information.
These people combined storytelling with musical tradition and they had an important role in the society. These people called Sambla, whose are unimaginably rich in music. Each village, each important family and every profession has its own piece of music that functions like a coat of arms.
Music is composed for every important occasion. Any work carried out by the village community is accompanied by music.
The most striking feature of this music is the rich ornamented virtuous xylophone solo.
Two of the band members came to Austria and used to play in different bands before they formed a new band called "Djakaly Kone". There are very few African bands in Austria and there are very few who can play instruments such as Kora, – said Dr Martin Trisko.
Djakali Kone is a musician from Burkina Faso. Due to his talent many well known musicians from Africa and Europe engaged and play with him, such as "Les Frères Coulibaly", Oumou Sangare, Duni Paece, Smockey (a rapper from Burkina Faso), Awadi (Senegal) and Sami Rama (singer from Burkina Faso). During the following years he became known to many professional musicians in Switzerland und started to perform with them, for example, with the group "Jonas et le Taxibrousse Orchestra", Kara Sylla Ka, and Ismael Lo (Senegal).
Djakali Kone came to Austria in 2010 in order to continue his professional carrier together with Mamadou Diabate, a balafonist from Burkina Faso who is well known in Austria, Europe and Africa. In Austria he started to work with artists like Wolfgang Puschnig, Sigi Finkel, Studio Percussion Graz, Silvio Gabriel, Ismael Barrios, Congarilla and Insingizi. In december 2011 he won the "Austrian Wolrd Music Award 2011" with his group Percussion Mania.