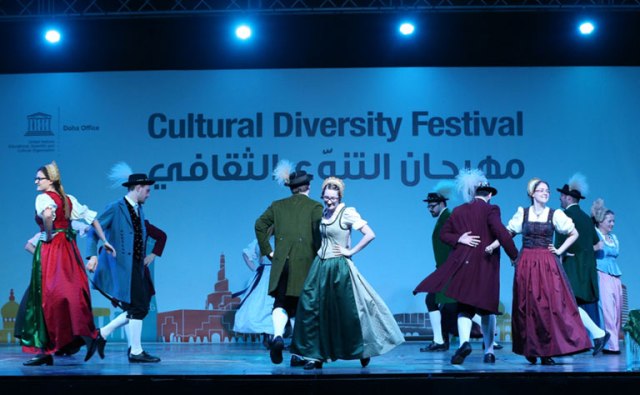 Austrian group "Wachauer Folkstanzgruppe" has charmed a large number of visitors at Katara – the Cultural Village esplanade with their traditional folk performance.
Speaking on the occasion, Austrian ambassador to Qatar Mrs.Sieglinde Fedele said: "We are pleased to have Austria presenting at such great initiative between UNESCO and Katara. It is an opportunity to bring the world to Qatar."
The significant audience watched the traditional folk performance and experienced live music using traditional Austrian music instruments like accordions, flutes, guitar and horn.
The group is from the beautiful Austrian region "Wachau". Since 2001 this region is on the UNESCO World Heritage list. The home town of group is Krems-Stein, which is more than 1000 years old. The old lanes, houses, churches, castles, abbeys and especially the river Danube and the vineyard terraces make this region very picturesque and unique.
The group have been performing their dances and joining parades at many International Folk Dance Festivals: Germany, Belgium, Slovakia, Estonia, Czech Republic, The Netherlands, China, Australia, Mexico, Italy, Hungary, Switzerland, USA, Canada, Macedonia, Bulgaria, and others. Some of these festivals were organized by IOV, CIOFF or other organizations.