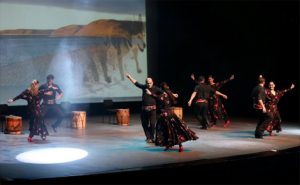 Katara, the Cultural Village Foundation's, has finalized Cultural Diversity Festival with the Argentinian folklore performances. The group featured the originality of the rich Argentinian and Latin American traditions through powerful musical performances.
"Compañia Sentires" is the professional cultural art company that promotes Argentinian culture through its shows. "Sentires" has more than 20 performing platforms across all provinces of Argentina, making it one of the largest and the most important art and culture entities in Argentina and beyond.
This company performed successful artistic proposals as "Feel what our", "Feeling Tango", "I … Argentino" and "Feel Malambo", which were presented in numerous festivals and theaters in the country, representing Argentina at the international festivals, as the only national representatives in countries as Italy, France, Spain, Belgium, Portugal, Holland, Brazil, Bulgaria, Ecuador, Poland, Germany and South Korea, where bagging prestigious international awards.