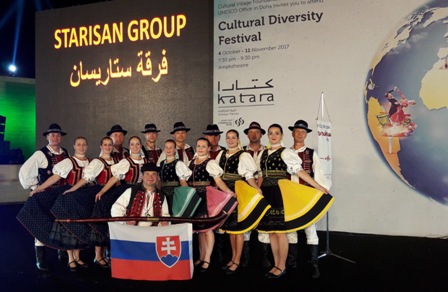 The civil association Folk Ensemble "Starisan" was founded in 2007 in Presov by a group of enthusiastic people, and former members of the Folk Ensemble "Starisan" which ranks among the best in Slovakia. More than 40 women and men aged between 30 and 70 years dance, sing and play the musical instruments in the ensemble. The group's members interpret the folklore from Slovak villages in regions of Saris, Zemplin and Spis in Eastern Slovakia. Typical attributes of their performances are the sense of beauty, temperament and humour, holding national folklore traditions in high regard while respecting all nations and spreading international mutual appreciation.
The group represent the city of Presov and national cultural heritage of Slovakia not only at home but also abroad.
The ensemble offer varied compact programmes which can be flexibly adjusted according to different requirements, such as smaller group performances, live music versus recorded performance, different lengths of programmes, with different numbers of dances and songs.