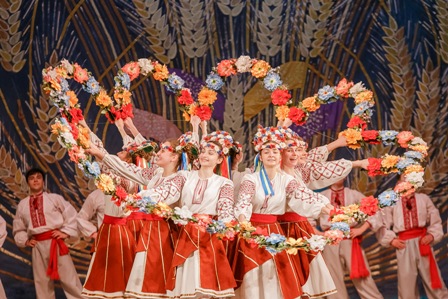 A Dance Ensemble "Radist" ("Joy") was created in Palace of Youth in Vinnytsia in 1998. Now 400 persons are learning the art of choreography there.
The ukrainian folk dances make the basic of the Dance Company's repertoire: "Gopak", "Pleskach", "Volyn Vizerunky"("Volyn Tracery"), "Podilsky Peredzvin" ("Podilsky Chiming"), "Podilski Vykhyliasy", "Bukovynsky Sviatkovy" ("Bukovynsky Festive Dance"), "Mykolka", "Ukrainian polka", "Hutsulka" and others folk dances.
The Dance Ensemble appears on the stages in Ukraine and abroad very often. It got considerable number of rewards and prizes taking part in different dance competitions and festivals: in Germany, Finland, Italy, Poland, Turkey, Bulgaria, Romania, Moldova, Lebanon, Taiwan, Lithuania, Latvia, Spain, Netherlands, Morocco, Greece, F.Y.R.O. Macedonia, Jordan, Czech Republic, Switzerland, Belgium, Thailand, France, Slovakia, Serbia, UAE, Bosnia and Herzegovina.