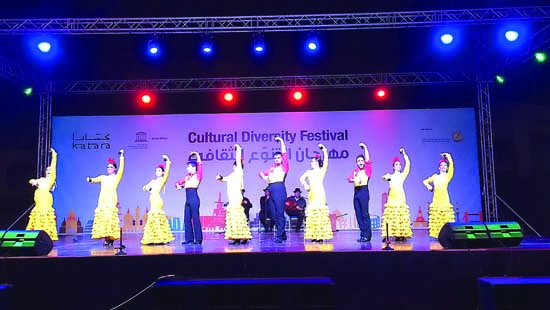 Recently Katara hosted the Spanish cultural experience at its esplanade.
Spanish "Dance Troupe Carmen Guerrero" fascinated hundreds of Katara visitors during the two-night performances as part of the Cultural Diversity Festival presented by Unesco Office in Doha and Katara.
The troupe performed flamenco at the Katara esplanade. Flamenco originated from Spain and is on the list of UNESCO's Intangible Heritage of Humanity.
The group was established in 1986. Initially they had performed in squares and popular streets at local celebrations, cultural events etc. In these performances the group demonstrated the most typical Andalusian songs and dances in the interpreted versions. The group increased its artistic range and has been awarded with prizes for flamenco theatre. Carmen Guerrero and Jorge Gomez are the choreographers of this group who directed these creations. The group has 9 components. The group moves with changes in musical trends but they do not forget their real folklore roots.
They have realized more of 800 performances in Spain and abroad. The artistic expression of the group evolved to have four flamenco theatre performances. "The Carmen Guerrero Group" performances in flamenco theatre are "Er sent", "Romancero Gitano" "Leyendas" and "Fortunata y Jacinta".