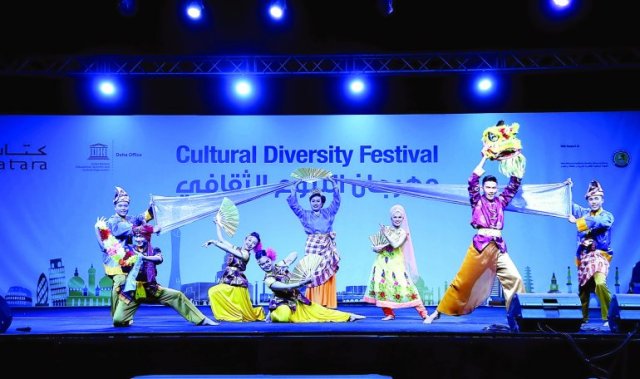 Showcasing Singapore's rich Malay culture by blending traditional dance forms with contemporary techniques folkloric troupe "Sri Warisan" from Singapore amazed audience at Katara Esplanade during their two-day performances.
These performances were organized as part of the Cultural Diversity Festival 2016 by UNESCO and Cultural Foundation Katara. These performances included Kampung life, wedding ceremony, welcome dance, celebration dance, Telok Belangah and Tari Kuda.
The highlight of the concert was the traditional performance called "Unity in Diversity", which represents the harmony in the life of different ethnic groups living in Singapore such as Malaysians, Indians and Chinese. The second day focused more on the traditional performances describing the lifestyle of the local Malay community.
"Sri Warisan" is a performing arts company founded by renowned cultural Medallion recipient, Madam Som Said. Sri Warisan, founded in 1997, is one of the core forces in Singapore's Malay dance scene. Blending rich traditional forms with contemporary techniques is Sri Warisan's trademark. Its performers are trained to excel in multi-disciplinary art forms such as dance, music, theatre and multi-media. Currently, "Sri Warisan" is led by Mr. Adel Ahmad, together with 30 performing artists and more than 200 student members committed to developing professionalism in the performing arts reaching out to children, youths and adults. Every year "Sri Warisan" performs at more than 200 local events and 10 overseas festivals. The instructors conduct more than 3,000 courses and workshops at schools.