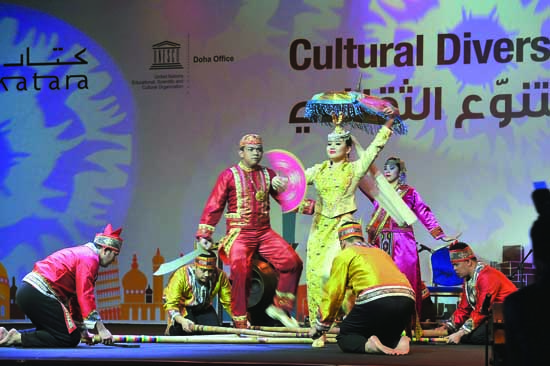 As part of the Intercultural Dialogue and Cultural Diversity Program of UNESCO in Doha in coordination with the Katara Cultural Village, Bayanihan, the National Folk Dance Company of the Philippines, officially opened the show at the Cultural Diversity Festival last January 11. The dance troupe gave performances not only at Katara, but also at the Philippine International School of Qatar.
The ambassador of the Philippines to Qatar, Mr. Wilfredo C Santos, said: "We congratulate UNESCO and Katara Cultural Village for holding the Cultural Diversity Festival which includes the performances of Bayanihan. Events like these allow different countries, including the Philippines, to demonstrate their culture and thus create increased awareness and a better appreciation of these divergent cultures for the benefit of Qataris and the expat communities in Qatar."
"Bayanihan", the National Dance Company of the Philippines takes its name from an ancient Filipino tradition called Bayanihan, which means working together for a common good. In 1956 Dr. Helena Z. Benitez founded the Bayanihan Folk Dance Group of the Philippine Women's University. The following year, 1957, it was formally organized as the Bayanihan Folk Arts Center with "the Bayanihan Philippine Dance Company" as its performing arm.
"Bayanihan" performed a variety of Philippine folk dances that demonstrated the rich heritage of Philippine culture from Luzon, Visayas and Mindanao.
Since its formal organization, "Bayanihan" has gone on 14 major tours – to Asia, Australia, Africa, Europe, the Middle East and Americas, apart from around 100 short tours to foreign countries. "Bayanihan" has performed in six continents, 66 countries and 700 cities across the world.