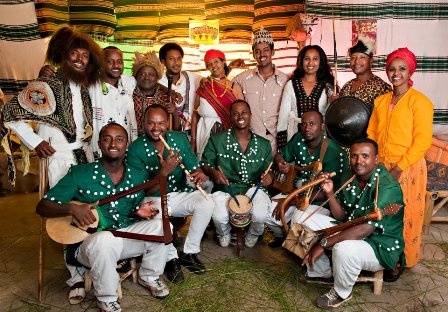 "Ethiocolor" is the traditional band, which is formed in 2009, Addis Ababa. This band, leading by the traditional dancer Melaku Belay, is the cream of the crop of the musicians and dancers of the country.
The main goal of this unique band is to represent the traditional styles in an accurate, lively and new way, as well as to spread their music all over the world.
During their performances the group uses the traditional instruments such as Kirar
(a kind of lyre), Bass Kirar, Washint (flute), Kebero (traditional drums) and Massinqo.
They have already won a wide audience not only in Addis Ababa, but also through the country.
The musicians and the dancers have collaborated with traditional music projects, but also with jazz, rock, fusion, and hip hop ones. Thus, all these experiences separate "Ethiocolor" from other traditional groups by giving their music a special "color".
The various dances of the band represent Ethiopia in all her diversity. The journey starts in the highlands of Tigray, Wello, Gonder, Gojam. Then "Ethiocolor" takes its audience to the south of Ethiopia, where we are introduced to the musics and the dances of Gurage, Wolaita, and Konso.
The show of "Ethiocolor" is a real invitation to discover the beauty of Ethiopia, the vitality of her music. The rhythmic layers, costume changes, and especially the famous eskista, (an hypnotic and frenetic dance of the shoulders) is a thrill for the eyes and the ears.