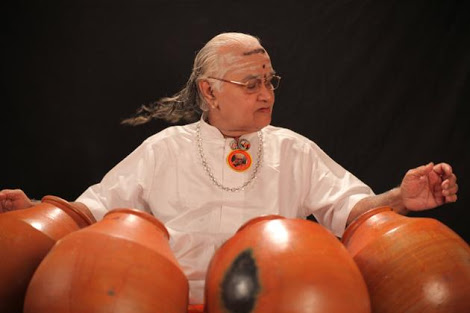 T.H. Vikku Vinayakram's concert career began at the age of 13 with his performance at the Sri Rama Navami festival in Thoothukudi where he accompanied V.V. Sadagopan. He was soon accompanying many famous vocalists in Carnatic music at the time, including Chembai Vaidyanatha Bhagavatar, Madurai Mani lyer, M.S. Subbulakshmi and Maharajapuram Santhanam among others. His brother. T.H.Subhash Chandran, also excelled the ghatam.
Vinyakram's tryst with the international music platform came in the early 1970s when he joined Shakti to play along with John Mclaughlin and Zakir Hussain. He has also performed at Basant Utsav, the annual fund raiser for the Banyan.
The ghatam is one of the most ancient percussion instruments of South India. It is a clay pot with narrow mouth. From the mouth, it slants onwards to form a ridge. Made mainly of clay backed with brass or cooper fillings with small amount of iron fillings, the size of the ghatam varies according to its pitch. Although the ghatam is the same shape as an ordinary Indian domestic clay pot, it is made specifically to be played as an instrument.The tone of the pot must be good and the walls should be of even thickness to produce an even tone.