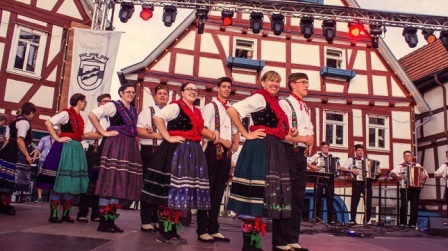 The "Schlitzerländer Trachten und Volkstanzkreis" was funded in 1927 and has taken on the task to sustain the tradition and culture of our region. The main objectives of our work are the preservation of the traditional dances, songs, the dialect and the authentic costumes. About 150 members of the society are dancers or musicians and join according to their age different groups.
Since the 1960s our group frequently participates in folklore festivals in many parts of the world, for example, USA, Puerto Rico, Russia, Shanghai, Taiwan, Hungary, France, Slovenia, Spain, Cyprus or Tahiti.
In 1961 also the first international CIOFF folklore festival took place in Schlitz. Since this time, we welcome every two years national and international dance groups in our hometown Schlitz participating in the "Schlitzerländer Trachtenfest".
Our repertoire will consist of different dancing suites, quadrille dances and traditional dances in two lines accompanied by our musicians playing live-music with accordion, double-bass and guitar.
Typical dancing styles are for example waltz and polka. The performances can be arranged in various formations and lengths depending on the planned duration of performance.