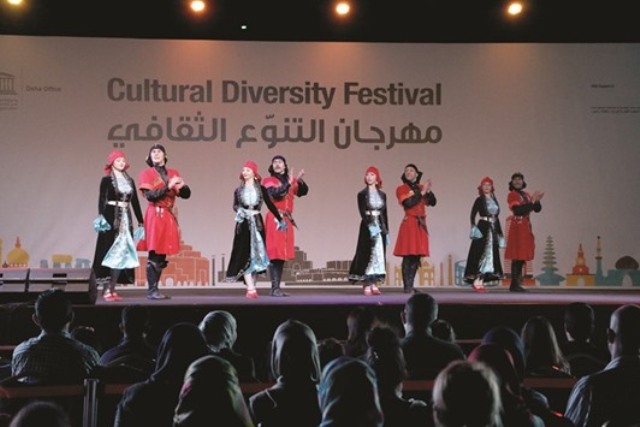 "Al Ahli Club" was established in 1944 by the group of Jordanian youth. With the support of the Hashemite family, the club is not only one of the most important sports clubs, but also cultural establishment in Jordan.
Through the showing of their elegant and unique culture belong to hundreds of years, the Circassians from Jordan enchanted the Katara audience with their dances and songs. The performers in colourful and traditional costumes from "Al Ahli Club" were showed the breathtaking moves by combining music and dance into one, where each of these moves had its own meaning and story.
The troupe manager Hameed Abzakh in interview said: "The ensemble is Circassian, originally from North-West Caucasus. We had to leave our homeland 150 years ago and we are now part of the Jordanian culture diversity. The performers of "Al Ahli Club" are volunteers of their culture, as they are trying to preserve the culture and traditions of their nation through the performances."
He added also that the Circassians are living all around the world in 42 countries but Jordanians have their signature style which is very different. These differences relate to the costumes, the dance elements. Every move in the dance means something, for example, some moves depict a hunter going to hunt. There are dances, which are special for the harvest season, for war and for celebrations, etc.
"The Al Ahli Club Jordan" has performed worldwide in many countries and at many festivals.