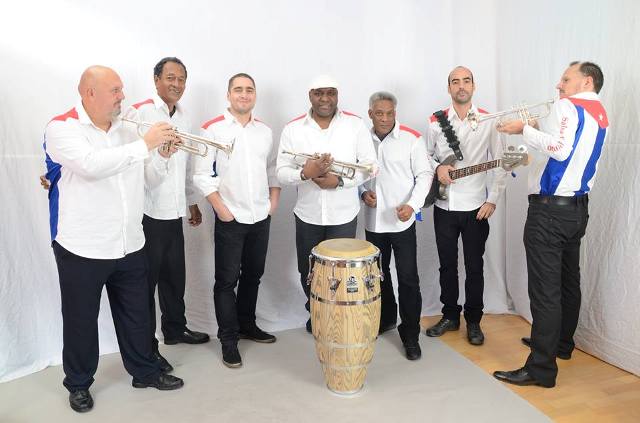 The folkloric performances of the group "Salsa Y Punto" from Cuba enthraled the audience at Katara's Esplanade as the part of the Cultural Diversity Festival organised by Katara Foundation in cooperation with the UNESCO office in Doha.
The band delivered performances that mirrored Cuban culture, including Salsa, Latin Jazz, Merengue, Cha Cha, and traditional Bachata.
"Salsa Y Punto" is a unique international band, consisting of top performers from Cuba and Serbia that produce a mixture of authentic Latin rhythms and sounds. The group of the experienced musicians has gained popularity with audiences in the Southeastern Europe by its original mix of rhythms.
The music of Cuba, including its instruments, performance and dance, comprises a large set of unique traditions influenced mostly by West African and Spanish music. Due to the syncretic nature of most of its genres, Cuban music is often considered one of the richest and most influential regional music of the world. For example, the cubano songs merge an adapted Spanish guitar (tres), melody, harmony, and lyrical traditions with Afro-Cuban percussion and rhythms.
"Salsa Y Punto Band" brings red hot rhythms straight from the streets of Eastern Cuba. They play authentic Cuban songs, the fusion of Spanish and African rhythms that is the root of all salsa music.
During the performance that lasted just over an hour, Salsa y Punto brought the typical salsa instruments to fore. The claves and bongos (drums) made people dance to their tunes.
As Marko Kovacevic, one of the two lead dancers of the band, mentioned: "The band presented traditional music and dances. It was a kind of folk music and dance that has been in Cuba for centuries. Cuba is a very old nation, who has some great traditional music and dance. These dances represent many parts of Cuba, even from outside Havana as well.
The group has many instruments from other continents but the main musical instruments and compositions come from Cuba. The main instruments were claves, maracas, bongos and they have been part of Cuban traditional music for many generations.
They combined piano, bass, trumpet, brass and dance together. Trumpet has to be there because it is Spanish music and it is mixed with conga (drums) from Africa, and a little bit of jazz from America. It is a mix of musical instruments from different continents like Europe, Africa, Asia and America."
The band performed exclusive events, festivals, and concerts in various parts of the world.