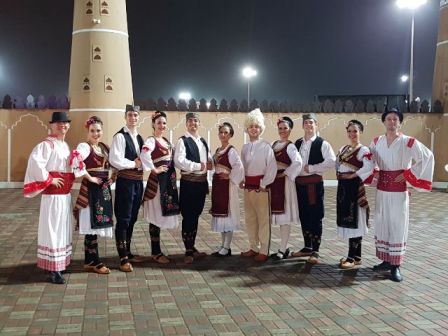 IFA "Perla" is International Folklore Ensemble which cherishes the dances of the nations worldwide. IFA Perla was originated in Belgrade, in November 2015, by a group of young people, who are well aware how important connections between people, cultures and nations are. Dance is a great way to learn and respect differences, to enjoy someone else's cultural wealth and heritage and respect your own. These youngsters decided to take the road which will enrich them and also those who they will give the most beautiful and the most sincere part of their youth to.
In Salalah Tourism Festival 2017 the group was represented Serbia and show through dance the culture and history of our people. The dances of the group have presented different regions of Serbia, through different costumes, steps and music.
The most popular dances are:
1. Sumadija – it is the dance from the central part of Serbia, namely from the heart of Serbia, by which we are recognizable in the world.
2. Pastirske igre – known as shepard dance, from the east part of Serbia.
3. Vranje – it is the dance from the south of Serbia, where is noticeable Turkish influence on the costumes and music.
4. Vojvodina – it is the dance from the north part of Serbia, where you can see the influence of Hungary.
Additionally, the group present also the dances from Balkans, Hungary, Romania, Macedonia, Bulgaria … but also from Greek, Spanish, Russia, and the others.