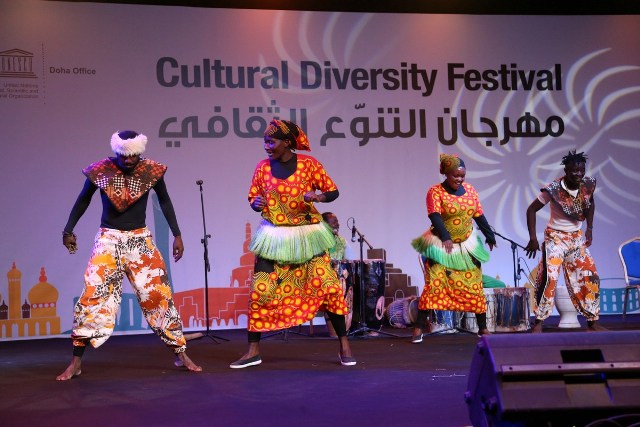 As part of the ongoing activities of the cultural diversity festival, "The Nairobi National Dance Ensemble" gave a spectacular performance at the Katara Esplanade.
The troupe consists of 25 talented young men and women dancers, musicians, and drummers.
The performers jointly present the authentic description of Kenyan culture with use of the song, the dance, the percussion and a number of additional elements which are central to Nairobi, "The City in the Sun".
"The Nairobi National Dance Ensemble" aims to present their rich culture to the world with its global performances. It aims to educate, preserve and recollect the richness of Kenya's national heritage through music and dance. Kenya's cultural diversity is extremely rich, based on the presence of more than 40 distinct tribal ethnicities across the vast nation.
"The Nairobi National Dance Ensemble" has united the majority of these tribal cultures into its performances, such as Kikuyu, Kamba, Embu, Meru, luhya, Luo, Kisii, Maasai, Kalenjin, Giriama and Digo tribes which represent regions from all corners of Kenya.
Each tribal representation brings an assortment of instruments such as handmade tin drums, Ohangala, Isukuti and Ngotha drums, Kitingisho shakers, Chivoti flutes, Orutu traditional violins and the Nyatiti, an eight-string instrument.
The ornate costumes consisting of animal skin are also a part of the Ensemble's performance, each tribe bringing an assortment of Kenyan symbols.
In addition to touring Africa and a number of locations across Kenya, "The Nairobi National Dance Ensemble" has also performed at festivals in Spain, France and Portugal.