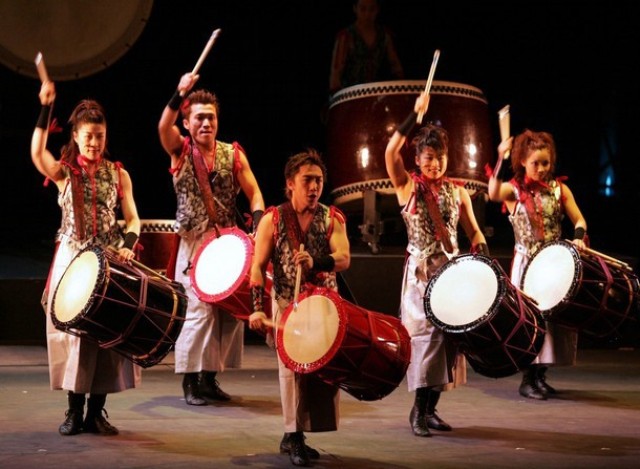 Entertaining audience with one of the oldest musical instruments from history, drummers from Japan created a mythical atmosphere with the beats of Taiko at Katara Esplanade.
The Japanese performers showed the power-packed Taiko concert.
Taiko is Japanese drums with centuries of association with classical music tradition of the country, which plays an important role in many local festivals across Japan. They also accompany religious ritual music as well. It continues to be an integral part of Gagaku, typically performed at the Tokyo Imperial Palace as well as local temples and shrines. One of the elements of the Gagaku Art Form is traditional dance, which is guided in part by the rhythm set by Taiko.
After the concert Shingo Tsuda, ambassador of Japan to Qatar, said that Taiko is actually the heart of Japanese people. In any village or small town, Taiko or the Japanese drum is one of the main prayers so it is the heart of the Japanese spirit. It is very traditional in Japan, and the idea was to introduce it here to the people of Qatar. It is something that people here can relate to and they really like this kind of traditional music.
"Hibikiya" Managing Director Namiko Sakai, who was also the performer, said they were excited to perform in Doha. Here we had seven members in the group performing, but two weeks ago in Japan, we had 40 performers.In this performance, we did not actually introduce each and every item but we did perform some traditional items that have 450 years of history.
Sakai also said that the one item was composed by masters and also featured some contemporary drums, especially the item where one player was playing three drums. This kind of music is everywhere in Japan, and for the festival they had to pick items from every part of the country. The drums also were accompanied by Japanese flute, which always goes with the festival Japanese drums. In continuation she explained that Taiko involved elements of music, martial and performing arts.
"HIBIKIYA PTE LTD" is a private entity established in Singapore. It has its own studio to provide platforms and reaches out to the Singapore society with its rich Japanese cultural activities. Under "HIBIKIYA", it manages its own group "Tenko", which performs Taiko and various mask dances including Shishimai/Japanese lion dance, Okame, Hyotokko, Berodashi, Owarai, Ichimonji, Kitsune, Miko, just to name a few. In addition, "HIBIKIYA" has partners that collaborate or jointly perform for events with them. They are Buyo (Japanese Traditional Dance) and Minyo (Japanese Folk Dance), Ikebana groups, Origami groups as well as Sado (Japanese Tea Ceremony).
They have performed in many countries, including India, Philippines, Brunei, Malaysia, USA and Indonesia.
It was the group's first performance in the Middle East.