Ministry of Culture and TV and Radio Broadcasting of Turkmenistan organizes International Exhibition of Arts and Crafts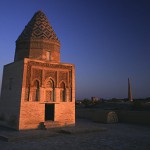 There is a great possibility for all of you to make a visit to Central Asia – Republic of Turkmenistan.
Ministry of Culture and TV and Radio Broadcasting of Turkmenistan organizes International Exhibition of arts and crafts and Festival of National Folklore "Spiritual treasury of mankind".
This event is organized with decree from the President of Turkmenistan Gurbanguly Berdimuhamedov. Make all preparations and coordination with the participating delegations, a special working committee was created in the Ministry of Culture and TV and Radio Broadcasting.
Festival is to be held from 21 till 23 of April 2010 in Ashgabat,
Opening ceremony is on 21 of April, individual arrival and departure schedules are to be discussed.
Representatives of all countries are invited to participate in both Exhibition and in festival. Performers ( soloists, creative and folklore groups)
The number of participants should not exceed 30 members.
International Exhibition will be held in following trends of Arts:
2. national musical instruments
All participants must be aged over 17 years old.
Scientific and Theoretical conference on "Traditions of Folklore art and classical ceremonies" as well as "round-table" talks are planned.
All participants will be granted with valuable gifts and diplomas.
In order to participate in this event, you have to send to organizing committee Application form ( when you can receive from me), list of members of your delegation, and copies of passports of all participants, either by fax to: 0099312 353417 or by E-mail:

[email protected]
A good quality photo ( 9×12), CV of the group and video or audio materials of your group, should be sent to organizing committee and this materials will be used later on for the festival booklet.
If you plan to participate in the conference, then a theses should be presented beforehand.
All transportation costs should be carried by the participants.
Organizing committee will be responsible for local accommodation, three times per day meal, domestic transportations.
International round trip tickets of the participants (to and from Ashgabat) should be covered by participants themselves.
Please feel free to contact me directly if you need any assistance in taking part in this wonderful event.