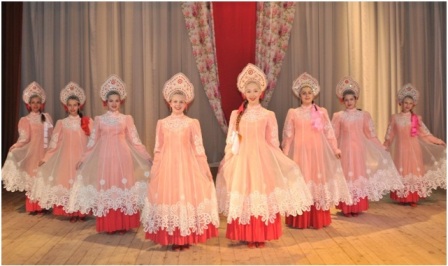 The Ensemble "Kladets" was founded in 1995 in the Palace of Culture and Sport – "Yakovlevskoye". In 2000 the ensemble got the title "The model One".
The collective consists of about 100 people from 7 to 24.The art manager of the ensemble is Tatiana Razboyeva, the Honoured Culture Worker RF. The musical manager is Vyacheslav Urskov, the Honoured Culture Worker MR. The manager of the orchestra group is Vladimir Kulakov. The dance producer is Tatiana Gvozdeva, also the Honoured Culture Worker RF.
The repertoire of the collective is wide and varied. There are a lot of songs of different regions of Russia: lyric, ring – dancing, folk dancing, chastushki-games: "Barynya", "Matanya", kadrili and others.
The ensemble took part in regional, All – Russian and international festivals and contests and often got Grand Prize and was the First Degree Laureate repeatedly.
The ensemble takes part in district and region cultural events actively. It also takes part in festivals and competitions in Russia and aboard (Ukraine, Belorus, Turkey, Italy, Portugal, Hungary, Bulgaria, Czech Republic and France).
The folk ensemble "Kladets" comes to the creation of original and interesting dancing and folk performances through creative search, rutting soul and part of its heart in it.
The participants of the collective "Kladets" are the young keepers of history and cultural legacy of musical art of Russia, with its spiritual and centuries – old folk traditions.